Coming Soon!
He's back...almost.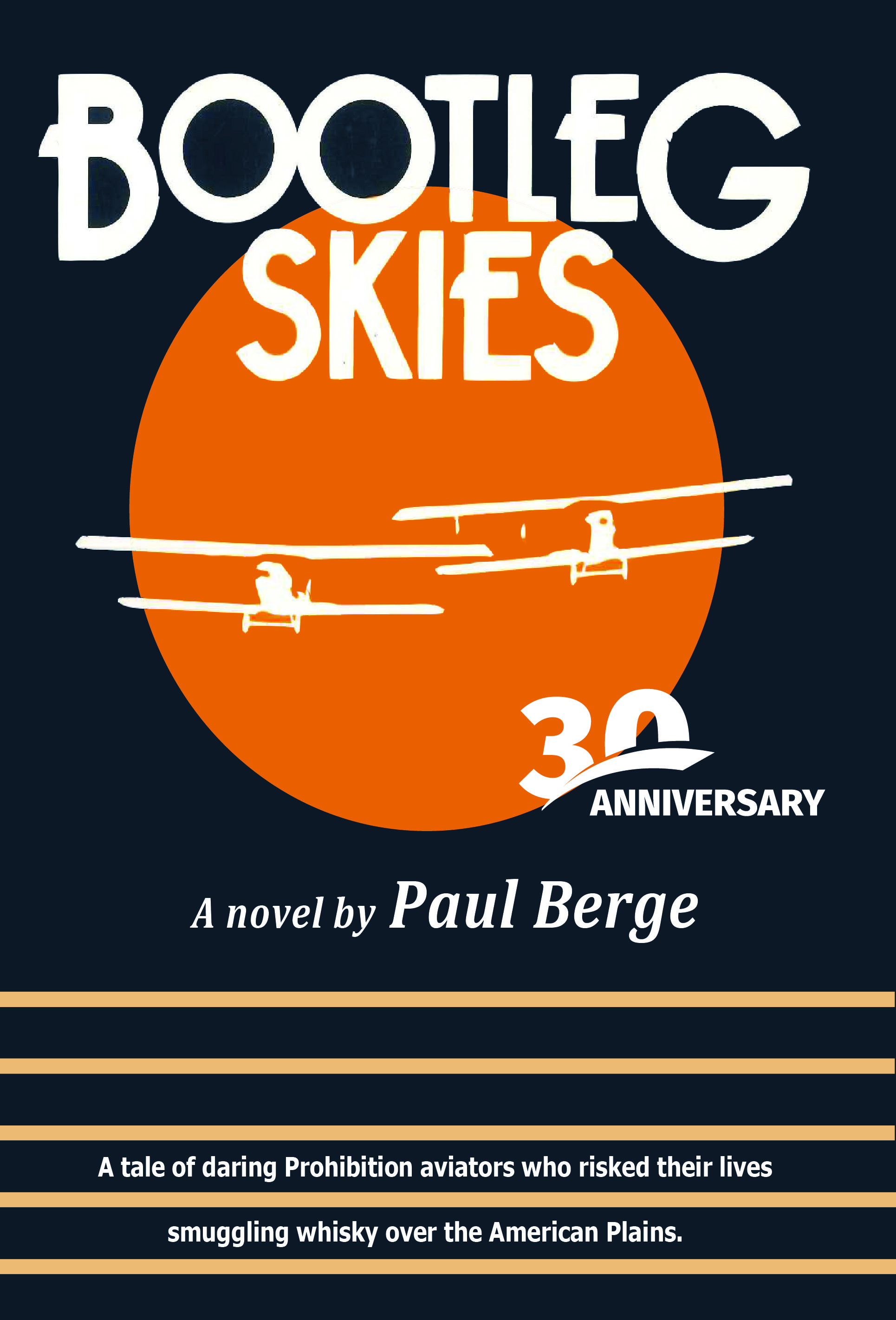 Jake Hollow, the Roaring Twenties barnstorming pilot, who won our hearts—if not our minds—in Bootleg Skies, is coming out of retirement, well rested and poised to resume smuggling whisky from wet Canada into the dry Midwest. Yeah, Prohibition ended 84 years ago, but Jake's adventures in over-laden biplanes running illegal hooch across the northern buckle of the bible belt are back for an encore.

Bootleg Skies, by Paul Berge, hit the streets thirty years ago, but publisher, Joe Pundzak, realized that it needed to be off the pavement and into readers' hands. Critics raved! But, what do they know? No literary critic has ever landed a 1920s biplane in a snowy field, or faced down rival bootleggers and federal agents with no appreciation of the potential of enterprising air freight operations.

Jake Hollow is the guy who always seems to pick the wrong door when given two choices. Behind Door #1 is safety and respectability. Behind #2 is adventure, romance, a few gun fights, lots of car and airplane crashes and a few thousand gallons of Canadian whisky ready to cut with Midwest ethanol and resold to thirsty Midwesterners at massive profits. Profits that can't be spent, though, if you're dead, so for Jake and the other flying bootleggers, the trick is to stay undead and pocket the rewards—a trick that proves challenging for pilots of lesser flying skills than Jake's.

Ahquabi House Publishing announces the rerelease of Bootleg Skies in a 30th Anniversary Edition. This hardback volume contains your old pal, Jake Hollow and all his misdeeds, but now with 34% fewer exclamation points!

Watch his space for the imminent announcement of the release of Bootleg Skies 30th Anniversary Edition, by Paul Berge.
Welcome to the official site of Paul Berge.
Stop yourself if you've heard this: A guy walks up to Paul Berge at the Ailerona airport café and says, "Hey, you're kinda famous, aren't you?" And before Berge could answer, "Why, yes, I am, Mr. President," this guy realized his mistake and quickly left. Despite the misidentification (possibly he was thinking of the late Perry Como, a common mistake), the handle, "Kinda Famous," stuck. You could search the Internet and get all sorts of hits on Paul Berge, flight instructor, writer, actor, veteran, retired air traffic controller, cellist… Okay, that last one was a stretch, but it was on the web so must be true. Truth is an illusive currency in today's world, but you can be certain that by exploring this site and reading Berge's many short stories, novels and viewing some of his videos, you'll say to yourself, "One day, that guy's gonna meet someone sorta famous." Meanwhile, be sure to order the vegie omelet with pepper jack cheese next time you're in the café, and remember to tip your waitress; she's working on her pilot license and needs the money.

Private Pilot Beginner's Manual (for Sport Pilots too)
2nd Edition is here and ready for you!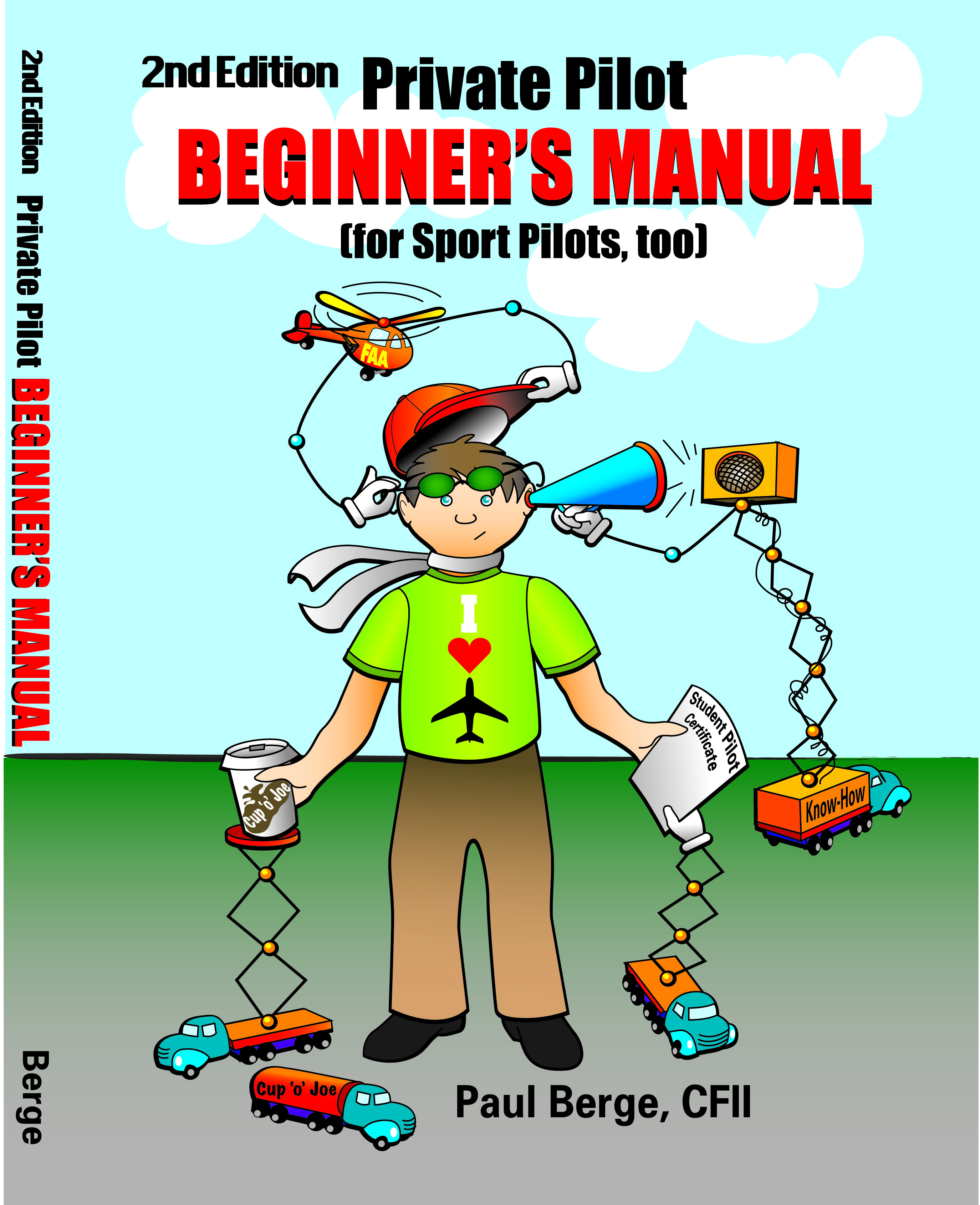 This easy-to-read aviation book is ideal for student pilots with no flight background who wish to gently immerse themselves in flight training. Perfect for private and sport pilots to brush up on the aero basics before a biennial flight review (BFR). Flight and ground school instructors will appreciate the Private Pilot Beginner's Manual (for Sport Pilots too) 2nd Edition as the ultimate guide for introducing or reviewing aeronautical basics without scaring off future, or returning, pilots with overly technical dissertations. You'll laugh, you'll fly, you'll refer back to it throughout your flying life. Keep Flying!
Click here to order.